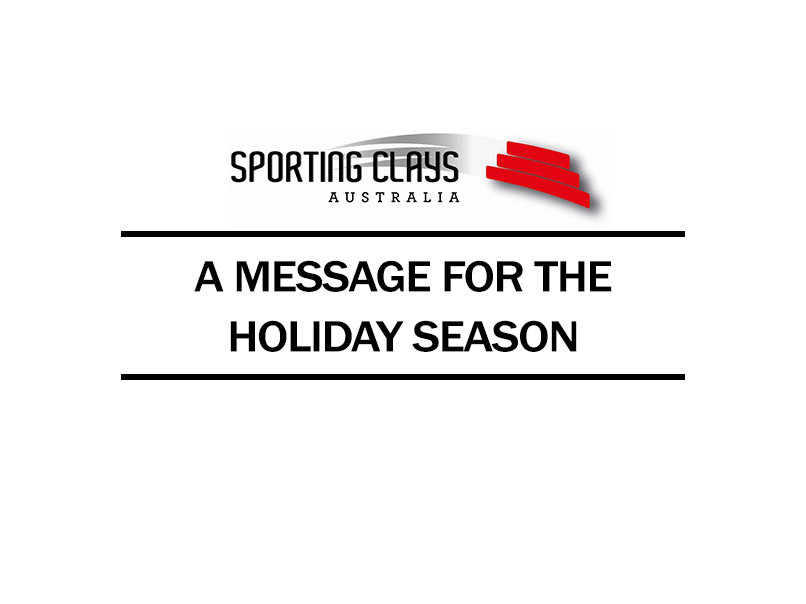 Things are winding down for 2016
Sporting Clays Australia says 'Thank You' + How to get in touch over Christmas/New Year's.

With Christmas fast approaching, Sporting Clays Australia would like to wish everyone a safe and happy holiday season and also thank the Clubs, Volunteers and you – the Shooters – for your support throughout the year. The Community is the backbone of our Sport and it's fantastic to see how much we've grown in the past 12 months thanks to your enthusiasm and dedication. 2016 was a year of transition filled not only with operational changes, but also bigger and better Competitions at National, State and Local level. We're looking forward to what's to come in 2017 and we hope you are too.
As things start to wind down for the Christmas/New Year period, please be aware that any membership renewals or merchandise orders purchased between 19 Dec 2016 and 2 Jan 2017 will be processed in the New Year (week beginning 2 Jan 2017). Your Club and State Secretary have access to the system to confirm your membership in the interim. Your email receipt and Purchase History on your SCA Profile can also be used as proof of purchase. The SCA Volunteers and Admin Support Officer will be taking some time off, however, if you have any enquiries you can get in touch with us via the SCA website and we will get back to you when we can.
Thank you once again for an amazing year. We look forward to seeing you around the grounds in 2017.