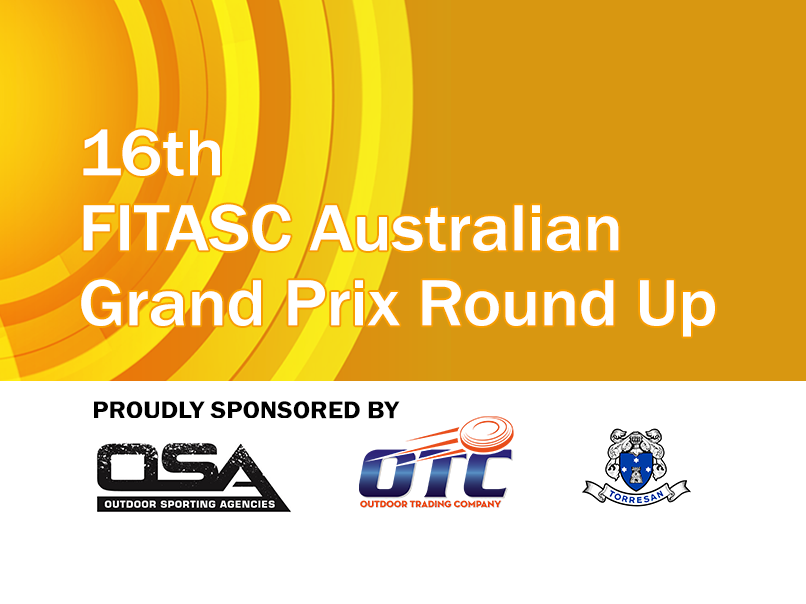 2018 FITASC Australian Grand Prix Round Up
Chris Brown has beat out nearly 200 competitors to win the 16th FITASC Australian Grand Prix and become a five-time champion.
Soaring temperatures and high scores were recorded at Rocky Gully Sporting Clays on 10 and 11 March 2018 at the first Australian Grand Prix to be held outside of Victoria. Congratulations must go to the team at Rocky Gully and all the clubs from South Australia Field & Game who provided equipment, volunteered and helped host the event. Thanks also to Outdoor Sporting Agencies, Outdoor Trading Company and Torresan Estate who partnered with SCA to supply the quality prizes awarded to the placegetters.
Man (Open)
Chris Brown was extremely consistent throughout the weekend and won the title with a magnificent 191/200. Blake Nankervis came in second on 189/200, which included four possibles and fifty straight on Grounds 5 and 6. Cameron Kivinen came home strong to secure third place with 188/200.
Lady
Renae Birgan added another Ladies Australian Grand Prix title to her record with 177/200, making her a nine-time Ladies champion. Anna Hirchfield came in second 164/200 with Felicity Richardson third 163/200.
Senior
Peter Hall came out on top on both days of the competition finishing on 180/200 to take out the Seniors from Robin Shawyer 177/200 and John Leach 176/200, who took out third place after a three way shoot-off with Robert Brown and Chris Ball (24, 21, 20).
Veteran
Alan Backman came from behind to finish on 183/200, with Rex Barber in second 177/200 and Eddie Magee third 173/200. This is also Alan's second time winning his category at the Grand Prix.
Master
Bryan Rafferty 163/200 won the new Master category from Max Kavanagh 150/200 and Ray McFarlane 149/200.
Junior
Bryce Paglia made it three years in a row to win the Junior category with 178/200 after overtaking Billy Cain who finished on 176/200 and Daniel Falco in third 174/200. Top effort Bryce!
There's no doubt we have some exceptional shooters in this country. It's worth having a look at the Australian Grand Prix Champions Archive to see just how many have won multiple titles across the years.
RESULTS
Check out the full scoreboard from the weekend HERE.