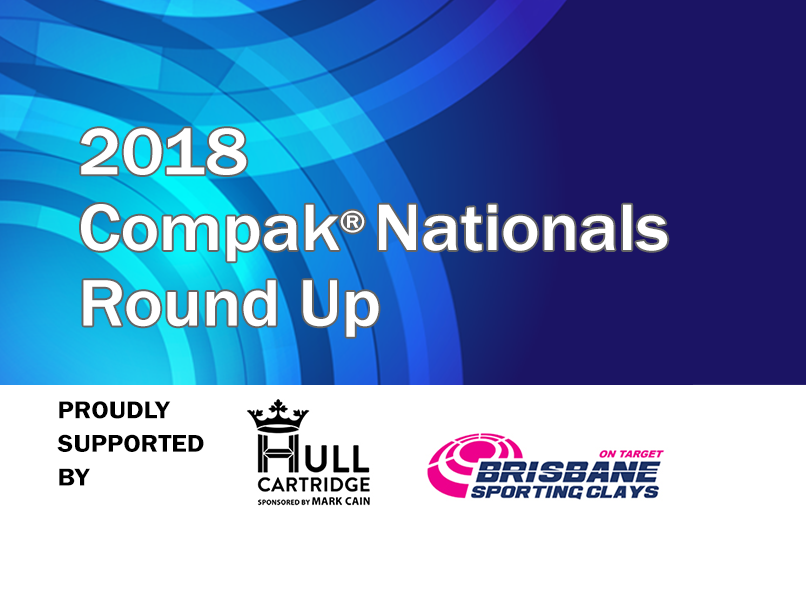 2018 SCA Compak Nationals Round Up

A bit of rainy weather couldn't put a dampener on the opening day of the 2018 SCA Compak Nationals at Brisbane Sporting Clays. A stacked roster had nominated for the event and there would be some fantastic scores to kick off the comp. At the end of the weekend, shooters had racked up 24 perfect rounds and the Super Shootoff would see Chris Brown and Robert Hall step up in the finals once again to vie for the title of 2018 SCA Compak Nationals Champion.
Man (Open)
The six-man Super Shootoff was between Chris Brown (191),  Robert Hall (189), Jacob Mackenzie (189), Peter Hall (183), Peter Tobin (181) and James McIver (180). This was after Chris shot an extraordinary 99/100 for the day and James shot off with fellow Brisbane local, Brett Chambellant, to secure his spot. It's always a sight to see a father and son compete against each other and on this occasion, Robert managed to out-shoot Peter 23 to 18. While Robert matched Chris on the targets, Chris' total going into the Shootoff gave him the edge and saw him take home his second national title for 2018. Coincidentally, Chris won his last Compak Nationals in Brisbane back in 2013. Jacob shot 21/25 to finish in third overall and Peter smashed 22/25 to snag fourth place.
Lady
The Birgan name stayed on the podium in the Ladies category with Maree Birgan edging out Katrina Brown  and Shannon Palfreeman, who was the only lady to score a perfect round at the event.
Senior
Peter Hall made it three from three at the nationals this year with a convincing 183/200 followed by Robert Passarin and Michael Birgan.
Veteran
Darryl Groundwater put another Queenslander on the podium with his win in the Veterans on 173/200. Allen Alley from New Zealand was the next closest with 163/200 followed by Denis Bullimore on 156/200.
Junior
Reece Cain claimed two 25 straights in his total of 176/200 to take out the Junior category. Sixteen-year-old Xavier Russell finished five targets behind, but in front of Billy Cain who had to cop a 0 in the first round on Sunday then followed it up with a perfect round to end with 159/200.
A big thankyou to Mark Cain for Hull Cartidges for his partnership for the event, Brisbane Sporting Clays for their sponsorship, and to all the volunteers who worked hard over the weekend and in the lead-up to put on another great competition.
RESULTS
Full scores can be viewed here.