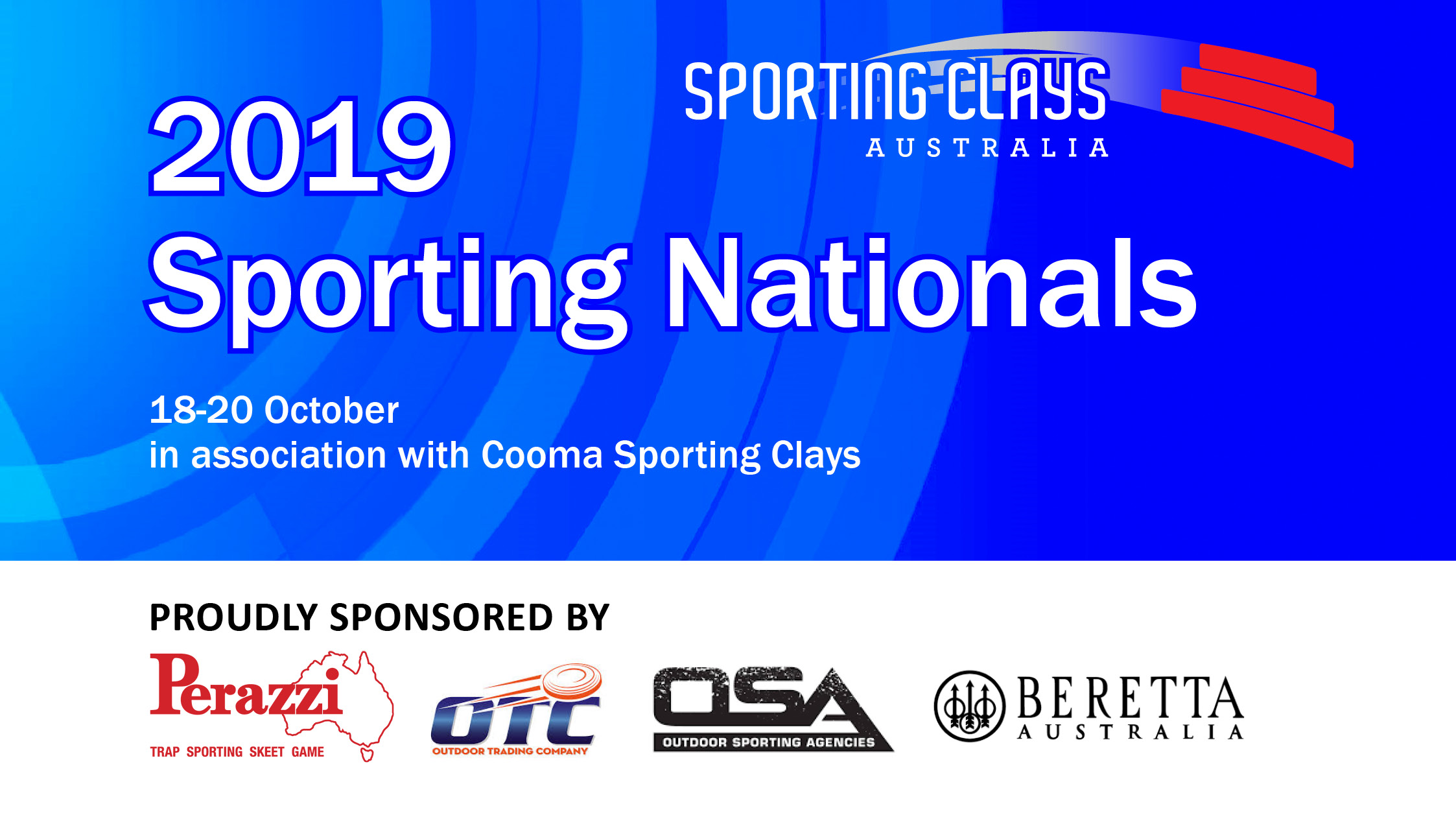 2019 Sporting Nationals
HEAD TO THE NSW HIGH COUNTRY IN OCTOBER 2019

Cooma Sporting Clays is excited about being given the opportunity to host the 2019 Sporting Clays Nationals. We are working hard to produce the top-level event that is expected of the SCA Nationals. It has been 21 years since Cooma held the 1998 Australian Sporting Clays Championships which incorporated the inaugural English Sporting Championship. This was the first year that the event was held over 3 days. (South Australia were to hold the 1997 Nationals and the first English Sporting Championships, unfortunately torrential rain washed out the event without a shot being fired.)
Cooma Sporting Clays range is based centrally in the Monaro, Snowy mountains region of NSW. The club's grounds boast a wide variety of terrain that affords itself to high quality shooting with a broad array of targets on any given range, in addition CSC with the generosity of neighbouring landholders have been able to gain approval to offer even more variety. Five of the eight competition ranges will be held on new country offering different terrain which will allow the range setters a broader canvas to set this year's event. The club will also be operating two practice ranges.
Sporting Clays Australia is looking forward to a good presence with their Sponsors in 2019. Perazzi, Berretta, Outdoor Trading Company, OSA and others will all be in attendance with trade stores to add to the atmosphere.
Famous as a snow holiday destination, the Snowy Mountains attract over 700,000 visitors per year with its stunning scenery, unique history and variety of attractions. With European settlement, Cattle country, the man from Snowy River and now the home of Kosciuszko National Park and numerous Ski Resorts to name a few.
Its beauty and stark contrasts span its length and breadth. There is a real passion for this amazing part of the country, with its distinct seasons of fresh summer air and winter snow across an expansive mountain landscape. The area is steeped in history with the traditional land holders using the mountains as a meeting ground and the destination for the summer "Bogong Moth" expeditions.
With Australia's fascination for skiing, kindled in the early gold rush days of Kiandra, the area has become a major destination for the winter sports, this in turn has led to the growth of a multimillion-dollar tourist industry mainly focused on the winter months. Accommodation, attractions and fantastic food outlets are a result of this. In recent years the attraction of trout fishing, hiking, mountain biking and relaxation have seen a fulfillment of a year-round holiday destination.
The highlights of the 2018/2019 local calendar have included. The "L'tape Australia" associated with the 'Tour de France", Australian Mountain Bike Championships, The Australian Waterski Championships, The National Busking Championships and the 70th year of Land Rover Australia reunion.
The Cooma Sporting Clays club is centrally located in this diverse tourism area. Cooma obviously the closest town (24km) has numerous accommodation options. The next major centre, Jindabyne (60km), is located on the foreshores of Lake Jindabyne. For more "rural" locations there is Berridale (27km) or Adaminaby (54km).
To help you plan your stay, we offer you a small amount of information to make your visit as enjoyable as possible.
ACCOMMODATION
Whether it be a Pub stay, B&B, motel , or caravan park that you prefer to stay at, Cooma has you covered. 'Visit Cooma' is a great resource to see all accommodation options within a short distance of Cooma Sporting Clays. For address and contact details take a look at the 'Visit Cooma' accommodation website or call 'Visit Cooma' on 1800 636 525.
FOOD AND ENTERTAINMENT
Once you are done shooting for the day, you might like to pull up a chair around our fire and recount your days battle, or otherwise take to the road and enjoy the food and entertainment in the Snowy regions. Cooma offer a selection of restaurant's with Lebanese cuisine from Rose's restaurant , to a club meal at Cooma Ex-Serviceman's club. For the full list of places to take in a drink or enjoy a meal, we recommend Visit Comma's website.
During your stay at the national, Cooma Sporting clays will have an egg and bacon roll and a coffee to start your day, a hearty lunch will be available with plenty of variety. Something sweet or a cool drink will also be available from the clubhouse. Keep an eye on the Cooma Sporting Clays facebook page for more details . We will also have ammunition and merchandise sales from the club and vendors.