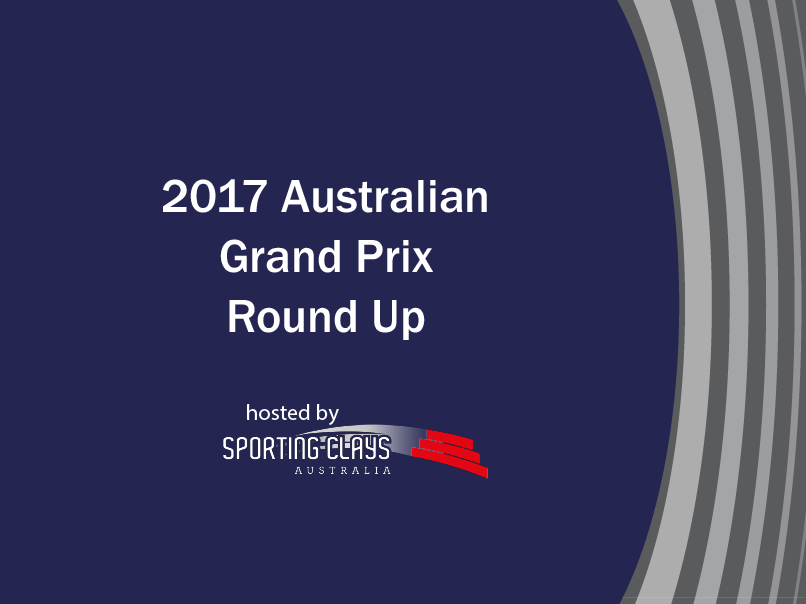 15th FITASC Sporting Australian Grand Prix Round Up
The 2017 SCA competition season kicked off over the weekend of 4 – 5 March with the 15th FITASC Sporting Australian Grand Prix.
A full roster of competitors gathered at the Warrnambool (SSAA) Sporting Clays Range in Laang, Victoria where outstanding targets had been set up by the hard-working crew. These National events always call for quality clays to be shot and one trap setter took his task very seriously, literally putting the blood into blood, sweat and tears (hope the finger's healing well, Tony Cameron).
Perfect rounds were few and far between and although there was something for everyone, the more challenging targets pushed shooters to their technical limits. The talent and skill of the competitors present at the two-day event was evident, particularly in the Open category with four shooters ending up on 186 after 200 targets resulting in a shoot-off for second and third.
When asked about the tough competition, 2017 Australian Grand Prix Champion Chris Brown said, "The amount of shooters that are capable of winning a shoot these days is amazing. Gone are the days when a winner could be predicted. Some of the performances in the Juniors and Sub Juniors were outstanding. Just goes to show that clay target shooting in Australia is in a very good place and only getting better."
Chris, who focused on endurance and stamina training to cope with two long days of competition, came away with his fourth Grand Prix title. "Going into the very last round I knew I had a couple of targets buffer, so I felt pretty comfortable that if I put in a solid effort in that round I could cement the win."
Like many other shooters, Chris took advantage of the fantastic venue and stayed on-site.  "We camped at the ground in our camper trailer. The Laang range has excellent facilities for campers; nothing beats being finished shooting and being able to relax straight away with a couple of quiet drinks with some great friends…"
There was certainly plenty to celebrate. Chris was also named on the 2017 Australian Team which was announced at the culmination of the Grand Prix. There was also a presentation to acknowledge Ray McFarlane's contribution to the Sporting Clays community, and John Mackenzie was recognised for his efforts in creating the live scoring system used by SCA.
Thanks to the team at Laang for hosting the event. If you didn't make it to the shoot, here's a fantastic view of the grounds, courtesy of Peter Tobin.
Congratulations to all the competitors who made it to the podium. You can also view full results from the weekend HERE.